Skip to Content
How to Host a Fun and Safe Outdoor Event This Winter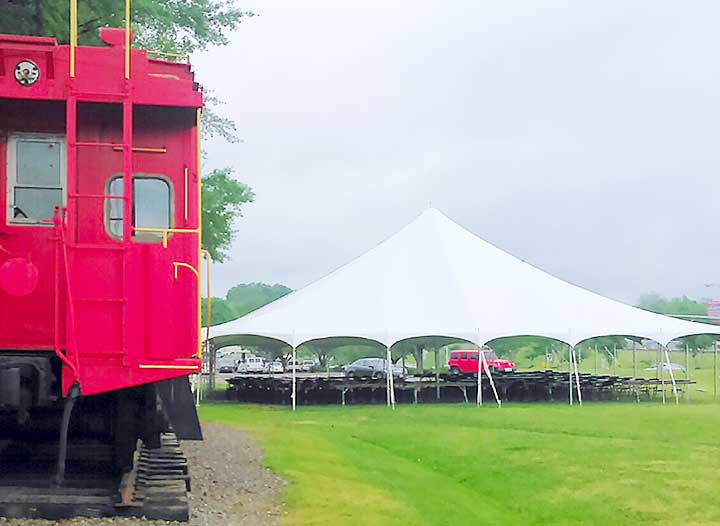 The recent dropping of the temperature outside makes the task of holding a covid-safe, socially distanced event a little more difficult in the winter, but not impossible. With the presumption that outdoor gatherings will be the safest way to socialize this winter, the ability to create a stunning, all-weather event is even more important. Using these creative tips and planning advice, we are confident you can still host a fun and safe outdoor event as the days and nights get colder.
As we all know things change quickly in the era of coronavirus. The first step you should take before planning an outdoor winter event is to get the latest gathering limits and safety guidelines from the CDC and from your local jurisdiction.
The glow of fire will add an instant atmosphere to any event so plan on keeping guests warm with an outdoor fireplace, fire pit, or chimenea. Portable tent heaters and patio heaters are other great ways to take the chill off. Take a cue from winter carriage rides by providing your guests with plenty of warm, snuggle-worthy blankets that can also double as decorations. Making it clear that festivities will be outdoors will naturally encourage guests to bundle up, but you should also consider gifting guests with scarves, earmuffs, mittens, or hand warmers they can use at the event and take home as a memento.
Create a warm ambiance with overhead lighting by hanging fairy lights, bistro lights, an outdoor chandelier, paper lanterns, or suspended mason jars filled with tealights. Use the natural decor of the season, such as winter branches, potted evergreens, and pine cones. Fresh eucalyptus is also a good way to add some seasonal greenery. Using it to decorate outdoor tables will allow you to enjoy its beautiful scent throughout the event.
Warm guests from the inside by keeping the hot beverages flowing. Hot cocoa bombs are super popular right now and provide a safe and fun way to keep everyone toasty. Other hot beverage options include all the ingenious variations of coffee, hot cider, and hot tea. You can find plenty of hot beverage inspiration here.
Serving hearty soups, stews, and chilis will also warm your guests from the inside out. These comfort foods will easily adapt to individual serving containers making them safer to distribute in a coronavirus world.
Socially distanced table layouts may come with particular challenges, but figuring out the right configuration of tables and chairs for your event is possible. Using a pre-planned seating chart, or designated zones for a reception-style event can be a more natural way to promote social distancing.
Communicate with your event participants all of the safety procedures you will have in place and how they can participate in keeping the event safe and fun. You will need to touch on topics such as mask requirements, social distancing guidelines, temperature checks, and sanitizing procedures.
At TCS Event Rentals, we are committed to supplying your special event with well-maintained, clean, quality equipment and providing dependable delivery. With a fleet of service vehicles, delivery trucks, and over 20 road trailers, we are well equipped to get equipment to you where you need it, and when you need it. Let us know how we can help you host a safe outdoor event this winter!