Skip to Content
Party Tents in North Carolina
TCS Event Rentals has years of experience in the party rental field. Our reputation is among the best in the industry, and we have provided North Carolina with party tents for years. We offer a wide range of styles and sizes, ensuring you will find a tent that suits your needs. In the past, we have provided tenting for everything from corporate events to small-scale church picnics. Our headquarters are located on a 12-acre complex with two warehouse facilities. Our size is how we can guarantee that we will have the tending you will need for your event. And, we are committed to helping you organize logistics and set up the tents for your event, further ensuring its success.
We Offer Endless Flexibility for Our Customers
When it comes to tenting, variety is crucial. You might think that it doesn't matter which kind you choose, but that isn't the case. The type of tent you select will play a vital role in the success of your event. Fortunately, you can count on the experts at TCS Event Rentals to help you choose. We have years of experience in the industry, and we know what it takes to organize a successful event. That expertise has served us well over the years. We offer two types of tents, with nearly endless varieties within, pole tents and frame tents.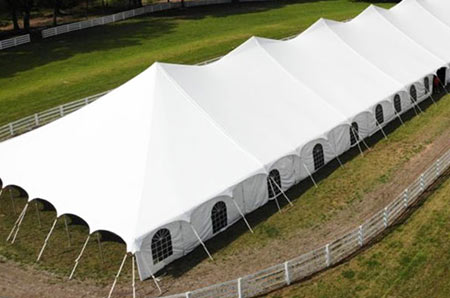 Pole Tents
• Sizes offered 30' / 40' / 60' widths
• White vinyl tops
• Sidewalls available in solid and window
• Must be staked into the ground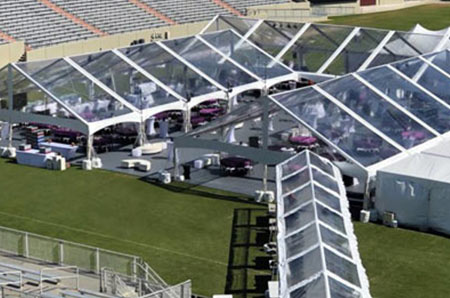 Framed Tents
• Sizes offered from 10' to 50' widths
• Offered in white vinyl and clear top
• Sidewalls available in solid, window and clear
• Ability to be installed using concrete weight anchors or staked into the ground
Get in Touch With Us Today to Start the Process
At TCS Event Rentals, we pride ourselves on our ability to deliver results to our customers. And we do that by keeping a massive variety of quality tents at our facility. But tenting is only one small portion of the equation. Thankfully, we offer everything your event needs – from tables and chairs to sanitation. That's what sets us apart from the competition.
Contact TCS Event Rentals Today