Skip to Content
High-Quality Party Floors for NC Events
TCS Event Rentals is the region's leader in party rentals. We have years of experience and an expansive facility featuring everything you need to ensure your gathering, party, or corporate event goes off without a hitch. Customer service is a value at our company. We work hard on your behalf, first determining what you need, then setting it up. When you're ready, we'll handle teardown and packing. We offer a variety of solutions to fit your budget.
From Carpet Tile to Dance Floors, We've Got You Covered
We offer a wide variety of temporary flooring solutions for any occasion – large or small. We can cover anything, including gymnasiums, football fields, and backyards. No matter how many events we accommodate, there's always room for one more. That is because we have a 12-acre property with two massive warehouse facilities filled with flooring options. Our flooring solutions include: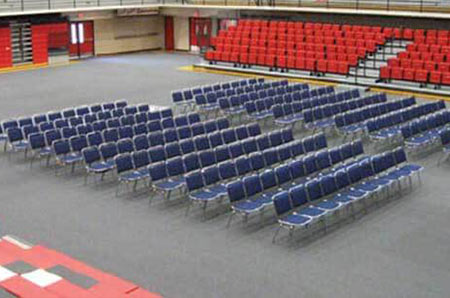 Protect-A-Floor Modular Carpet Tile
This option offers protection from chairs and tables on sensitive hardwood or polyurethane gymnasium floors. They are perfect for a range of events that take place in gyms, helping to protect them from scratches while lending an air of credibility and sophistication.
IKA-Floor Module Interlocking Floors
As one of our more inexpensive options, this alternative is perfect for marquees, exhibition shows, event tents, and even festivals. It features an easy-to-install interlocking system that stays together through the rigors of your event.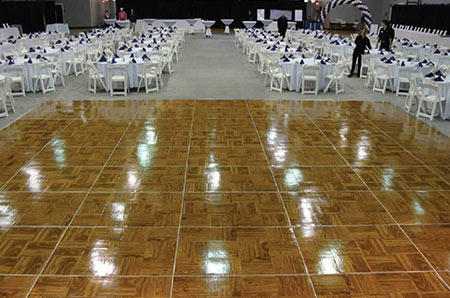 Dance Floors
From black and white checkerboard to oak boards and parquet floors, our dance floors are designed to keep the party rocking long after the clock strikes midnight. They are sturdy enough to provide a safe environment for dancing and good-looking enough to complement your event's décor.
We Listen to You and Make Common-Sense Suggestions
At TCS Event Rentals, we are committed to helping you plan the perfect event. Our team is dedicated to you. We listen to your concerns and the specifics of your event before making a suggestion based on our expertise and experience. In addition to flooring, we offer everything else you might need for a successful event. We offer tents for weddings and corporate events, sanitation options for events of all sizes, and much more. No matter what you need us for, you can count on unparalleled customer service.
Contact TCS Event Rentals Today